inkl. 19% MwSt. zzgl. Versand
The INFINITY Medium is the perfect gift for people who love the finer things in life. The INFINITY Medium is the perfect attention-getter for people who love the finer things in life. The preserved roses last up to 3 years and you can choose between a white or black box!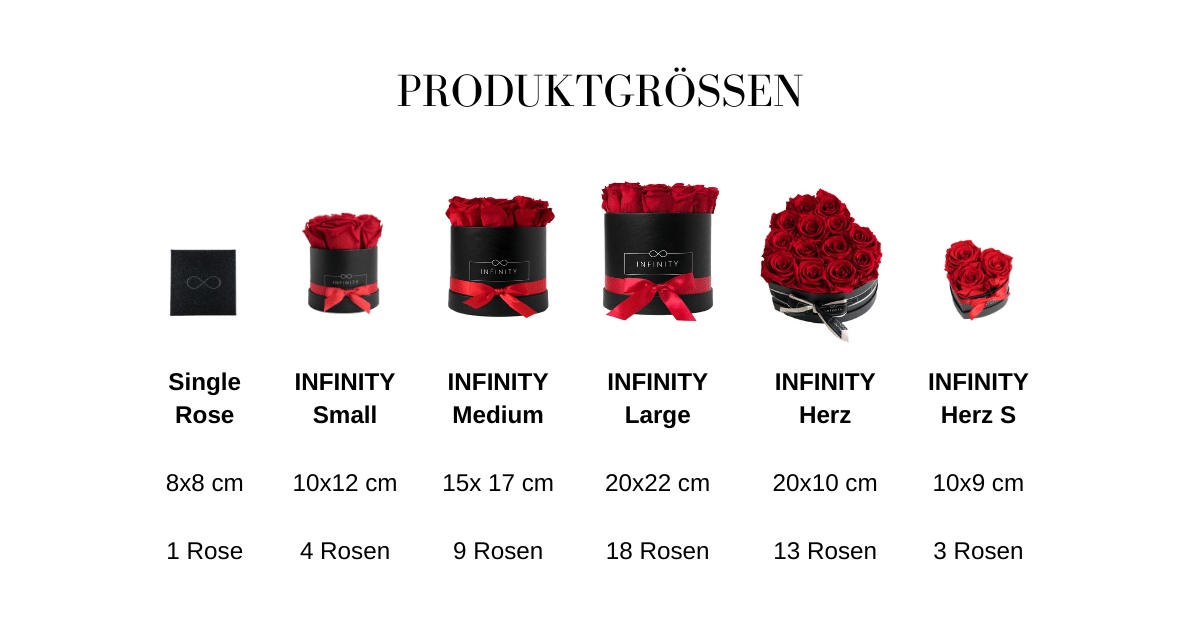 What is behind the INFINITY Medium roses?
The INFINITY Medium rose box illustrates the love of fresh roses with admirable lightness. The preserved roses symbolise the beauty of eternity and are guaranteed to enrapture the person receiving the gift. Infinity roses are not only suitable for flower lovers, but also for allergy sufferers, who usually cannot afford to put natural flowers in their living room. Give the perfect moment symbolically with the INFINITY Medium, which contains roses that are 100% naturally preserved at their peak of bloom.
The INFINITY Medium roses for every occasion
Enchant your loved one with 9 Infinity Roses in their favourite colour. By the way, 9 roses mean "eternal love" in love language! Give the INFINITY Medium as a gift and watch it decorate its surroundings in a timeless and elegant way. We have beautiful Infinity roses for every occasion – from Black Beauty to Hot Pink to Pure White! Do you have a special wish? We'll do everything we can to make sure you have the perfect gift – just contact us on Whatsapp Chat!
Which colour suits your INFINITY roses?
Vibrant Red is the colour of love and passion. Not only is the colour strong – the emotions conveyed with the roses also leave a lasting impression. Are you planning new decorative elements in your home? Then we have a tip for you: Find the rose colour you like best! Create a harmonious overall picture with your existing furnishings and give your home your own individual character. Give the INFINITY Medium as a gift and enchant your loved one with an everlasting, easy-care present.
Our INFINITY Medium roses: everlasting and easy to care for.
To enjoy their splendid appearance for as long as possible, it is best to place the Infinity Roses in a place that is neither too damp nor too dry. By preserving the roses, you no longer need to water them. They are sensitive to water, so just dust them with a dry brush to avoid damaging the flowers. However, please do not touch them, as over time the natural greasy film of your fingers will cover the flowers and affect their structure.
*The end product may possibly differ from the images shown, as it is a natural product.