inkl. 19% MwSt. zzgl. Versand
The INFINITY Stem Rose consists of our INFINITY Rose and a preserved real rose stem with leaves. It comes in an elegant black gift box. The preserved rose will lastup to 3 years and you can arrange it in a vase at home!
Genuine preserved rose with stem that lasts for years

Rose approx. 40-55 cm long

Square box with black paper

WxH of the gift box approx. 60×10 cm

*Endprodukt kann vom Bild abweichen, da Naturprodukt
in

2-4 Werktagen

bei dir (*siehe Versand)
abgesichert durch Käuferschutz von Trusted Shops
14 Tage Widerrufsrecht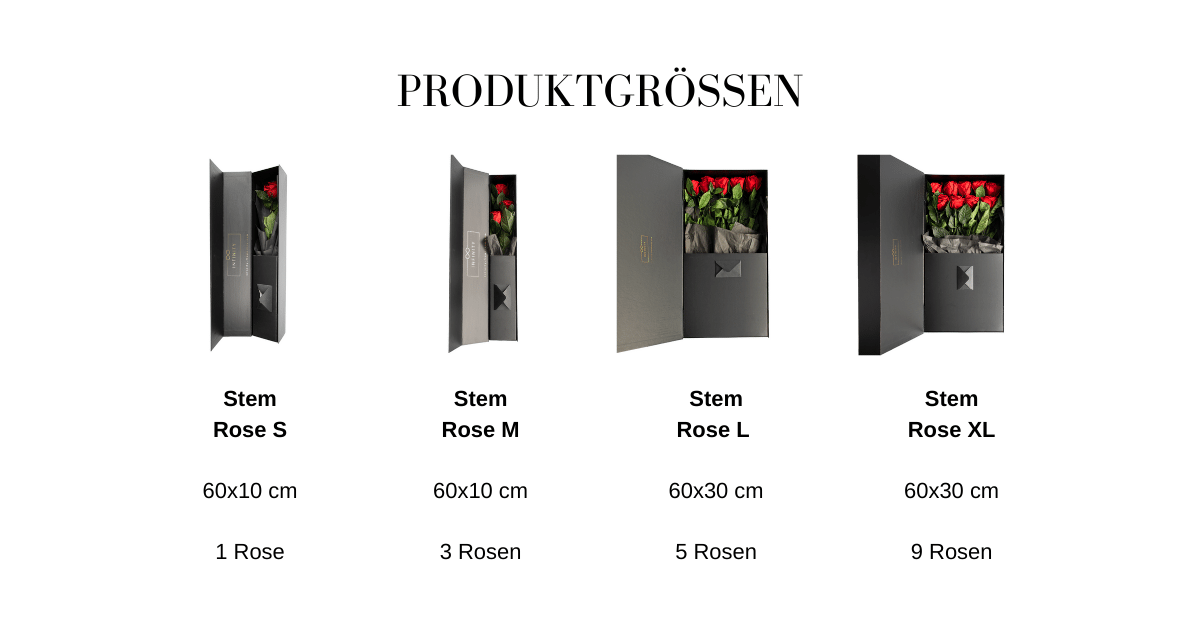 INFINITY Stem Rose – Finally a whole preserved rose!
The INFINITY Stem Rose represents the love of fresh roses with an admirable lightness. The preserved rose symbolises the beauty of eternity and is guaranteed to enrapture the person receiving the gift. The Infinity Rose is not only suitable for flower lovers, but also for allergy sufferers, who usually cannot afford to have natural flowers in their living room. Give the perfect moment symbolically with the INFINITY Stem Rose, which contains a rose that has been preserved 100% naturally at its most beautiful time of bloom.
The preserved rose for every occasion
Enchant your loved one with their favourite colour. The INFINITY Stem Rose is perfect for creating your own floral decoration. Whether for a small vase on the desk or a large vase in the showcase – we offer the Stem Rose in different sizes. From the single rose in XS up to 9 roses in XL! Do you have a special wish? We'll do everything we can to make sure you have the perfect gift – just contact us on Whatsapp Chat!
Which colour matches your INFINITY Stem Rose?
Vibrant Red is the colour of love and passion. Not only is the color vibrant – the emotions conveyed by the rose also leave a lasting impression. Are you planning new decorative elements in your home? Easily give your home your own individual character: find a container that harmonises best with your interior and easily create your own beautiful bouquet with our INFINITY Stem Rose. Carefully bend the leaves apart or remove them. Depending on the size of the vase, the roses can also be shortened with secateurs. Give the INFINITY Stem Rose as a gift and delight your loved one with an everlasting, low-maintenance gift.
Our INFINITY Stem Rose: Everlasting and easy to care for.
To enjoy its splendid appearance for as long as possible, it is best to place the Infinity Rose in a place that is neither too damp nor too dry. Due to the preservation you do not have to put the rose in water. It is sensitive to water, so you just need to dust it with a dry brush to not break the flowers. However, please do not touch them, as over time the natural greasy film of your fingers will cover the flowers and affect their structure.